Invest in Equipment to Grow Your Business
---
The ingenuity of the Pole Base forming system means the days of cutting, welding, and grinding steel forms to produce precast light pole bases is over. The time for smarter production is now.
Manufacturing precast foundations built to spec is where the Pole Base forming system shines. With magnetic conduit retainers, various anchor bold receivers, different door diameters and height extension pieces as well as high-end textures, creating a custom solution is an easy solution.
In addition to the forming system, equipment like the rebar jig, rollover donut, and lifting plate streamline the whole production process. Check out how much smarter, not harder, you could be working with equipment from Pole Base.
Request Equipment Packages
Top 3 Reasons to Choose Pole Base Forms
---
"Why should I use Pole Base forms when I could rig something up in my shop?" This is a common question, and we have an answer!
This video series will help you discover how Pole Base can help you build profits in your plant by choosing a quality forming system that's faster and safer than alternatives. Click below to find all videos in the series!
Watch the Video Series
What Equipment Do I Need to Get Started?
---
You can make the most common bases in the industry with Pole Base's 24-inch Round Form, so we recommend you start there with at least two forms. After that, you've got lots of options to add on and upgrade to get the perfect equipment package to serve your market. Reach out to discuss the demand in your market and create your own custom equipment package to get started.
24-Inch Round Form Equipment Information
I think we can all agree that everyone likes classics, and that's what the 24 Inch (610 millimeter) Round base is–a classic. The majority of pole bases sold in North America today are round and smooth, and this package will get you started with making the most commonly requested base.
Included in the Kit:
Two 24-inch (610 millimeter) Round Smooth Forms
One Pole Base Rebar Jig
One Pole Base Rollover Donut
One Pole Base Lifting Plate
One Pair of Rustication Strips
Ledgestone Upgrade Package Information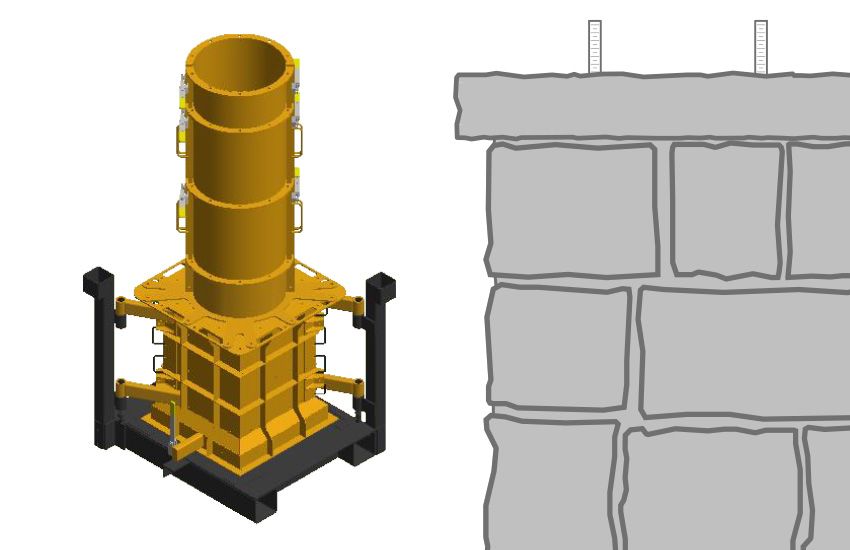 The Square Ledgestone base is truly a beautiful base. It's the perfect base for architects who want to match the site lighting to the facade of the building. It adds a high-end look that will improve the overall appearance of the development or area it is in. The awesome thing about the Ledgestone Upgrade Package is that it includes two 24 Inch (610 millimeter) Round Smooth forms PLUS one set of Ledgestone doors - so you can provide Round Smooth bases AND Ledgestone in your market.
Included in the Kit:
Two 24-inch (610 millimeter) Round Forms
One set of Ledgestone Doors
One Pole Base Rebar Jig
One Pole Base Rollover Donut
One Pole Base Lifting Plate
Benefits of the Pole Base Precast System
---
Better Looking
The Bases are poured upside down. Say what?! We took the standard light pole base production process and literally flipped it upside down. This way you get a clean, finished look at the top of all of your bases. You can even make the bases look like they are topped with a cap without adding extra work!
Smarter Production
The Pole Base forming system uses magnetic conduit retainers. Yep! You read that right! The conduit retainers are attached to the inside of the steel form with heavy duty magnets. Now you won't have to deal with drilling holes through your form. You'll spend a lot less time figuring out placement, and a lot more time making bases. In addition - the Pole base rebar jig, rollover donut, and lifting plate all help streamline the production process!
Easy Customization
The forming system components make your bases versatile. A bunch of different components can be easily incorporated into the system to allow you to produce bases with different diameters and textures. There are also many components that can easily be bolted on or off as needed.