What is the Market for Precast Light Pole Bases?
---
You see cast-in-place pole bases on plans and you see them all over your area… but who is the key driver in choosing what type of foundation is selected for site lighting applications? Who are the key installers?
Request a copy of the business opportunity manual to learn more about the market potential for Pole Base.
Get the Opportunity Manual
Who are the customers and what do they care about?
---
Specifiers
The key specifier groups Pole Base manufacturers are most successful with are Electrical Engineers, Landscape Architects, and sometimes Civil Engineers.
Engineers care the most about how the bases will perform, the ease of installation, the efficiency of the size of the base, and if the base can be installed in unique scenarios.
Architects care more about the uniform, consistent look, the aesthetic appeal, if the bases can coordinate with the rest of the site. They also love that the bases have extra features like textures, color options, and customization options like junction boxes and irrigation lines.
To find specifiers, monitor local plan rooms and builders exchanges to see what work is going on, and who is designing the site lighting. Also, stop in to construction sites! Face-to-face interaction will jump start your relationship.
Contractors
Contractors love using Pole Base because it saves them time, they can install in one trip, and they don't have to deal with concrete or putting the insides of the base together on-site. They also love that there are options for them to up-sell to their customers.
Another added bonus to Pole Base is that it can be installed in almost any weather condition, which can save a lot of time since contractors won't have to wait for the weather to clear up.
To find the good contractors, make sure you're visiting job sites, and getting recommendations from the specifiers whom you're building relationships with!
Municipalities & Developers
Municipalities and developers are typically the owners of projects, and they will often ask their design consultant for a specific look. The engineers and contractors are often the ones who would suggest Pole Base. There is a lot of opportunity in educating key decision makers at municipalities and developers about the benefits of Pole Base.
How do you get the end user to ask for Pole Base? A good start would be to schedule lunch and learns, meetings, calls, and anything else that will get you in front of them.
To them, the look and price is important. Pole Base isn't always the cheapest option, but if you can play up on the fact that they'll be receiving something unique that will set their site apart, you'll be able to close jobs.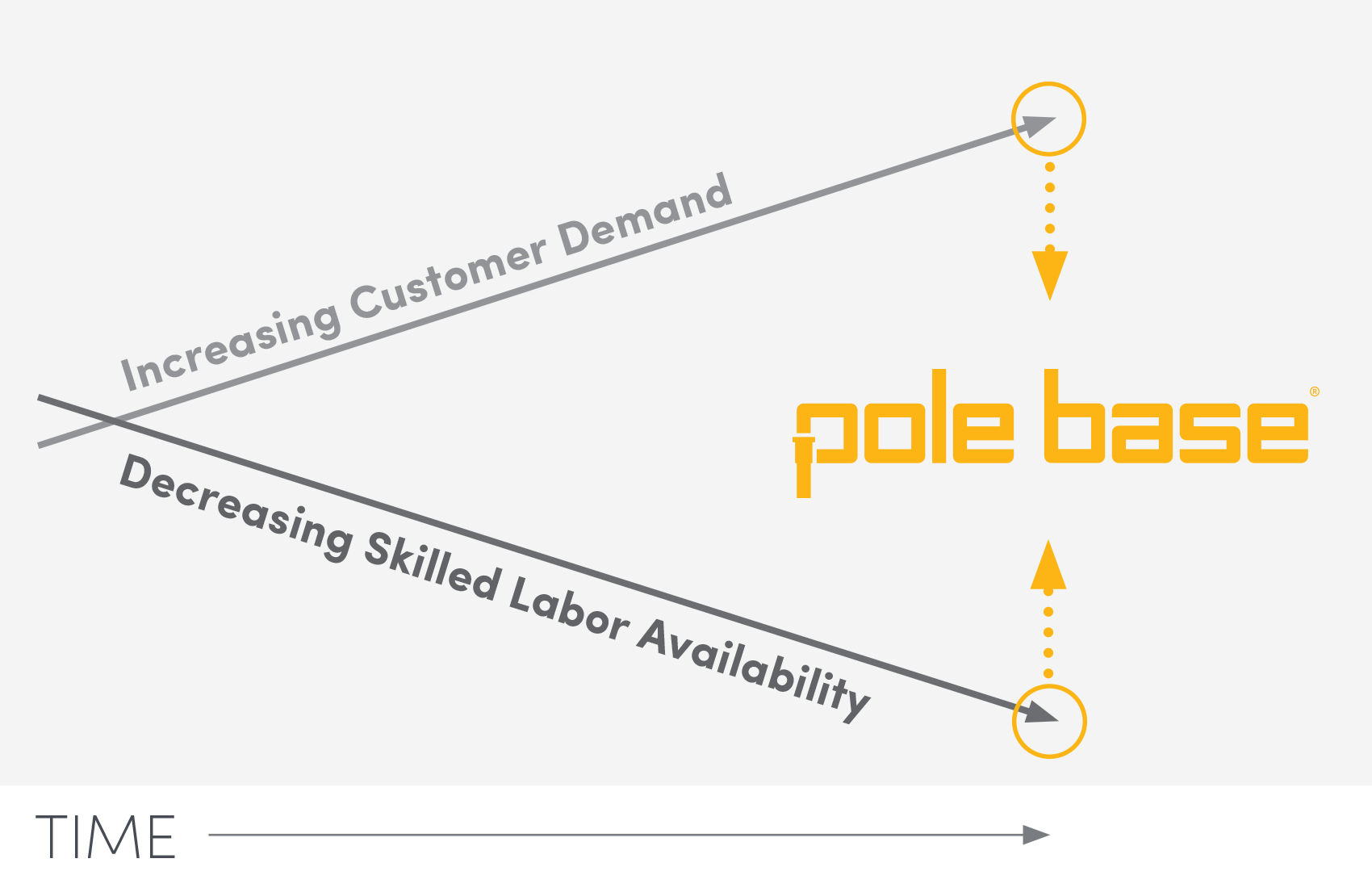 Over time, skilled labor has gotten harder to find, and customer expectations have gone up. You've probably seen this in your own shop; how hard is it to find good help?
Contractors and specifiers are facing the same problems, and they're looking for a product that's going to be easier to install and more consistent while still meeting the demands of the customer.
Pole Base is that product. As a manufacturer, you'll be able to offer a product that meets all of the contractors' and designers' expectations. They'll be so excited about Pole Base, they might even do a dance!