Minnick Services Testimonial
---
Business Expansion and Growth: Mark Minnick Shares His Company's Success
Mark Minnick, precast industry veteran and the president of Minnick Services, has shed light on some of the key tactics for being successful with the Pole Base and Redi-Rock business opportunities.
In 1978, Minnick bought his first precast facility with a focus on the funeral industry in Indiana. In the 1980s, as cremation started to take over the market, Minnick decided it was time to diversify his product line to keep his business competitive and growing while the market for precast burial vaults continued to decline. Minnick mulled over numerous opportunities and thought, "how can [I] shift our focus into more precast?" Minnick Services began to diversify by entering the manhole and precast structure market. The new business sector led to new connections and growth, which spurred the decision to acquire more plants, in order to produce more.
The Decision to Partner With Redi-Rock and Pole Base
While Minnick was aiming to continue to grow his business around 2016, he decided to visit another industry guru, Dan Houk, former chairman of the National Precast Concrete Association and current President of Wilbert Precast in Spokane, Washington. Houk shared his experience as a Redi-Rock and Pole Base manufacturer, suggesting that Minnick could grow his business by becoming a Redi-Rock or Pole Base licensee.
Minnick is driven by numbers and margins; "we don't like to do a lot of work and not make any money," he said. But after seeing Houk's operation and being impressed by it, Minnick began crunching the numbers for his own business and was convinced that the opportunity was promising. As a result, Minnick decided to take on Redi-Rock and Pole Base in 2017. Today, Minnick has about 70 Redi-Rock standard forms and in 2019 began to incorporate the Redi-Rock XL forms as well. Pole Base continues to grow as well; in 2018, Minnick produced 83 Pole Base units and in 2019, that number was up to 442 units. Minnick recounts, he would "have never imagined that they would be where they are today."
Mark Minnick's success did not happen by chance. Minnick has three top strategies for growing and diversifying a precast business:
Hiring passionate sales people
Wowing engineers and contractors with precast plant tours
Retaining repeat business
Hiring Passionate Sales People
When it comes to hiring salespeople, Minnick believes his ideal applicant must be respected in the construction fields, be personally connected to Minnick Services, and have the ability to sell Minnick's products - and sell them well. With the utilization of a salesperson tracker (a monitor in the office), Minnick ensures all of his salespeople are effectively utilizing their time and he can sleep at night knowing they are working just as hard as he is.
Wowing Customers with Precast Plant Tours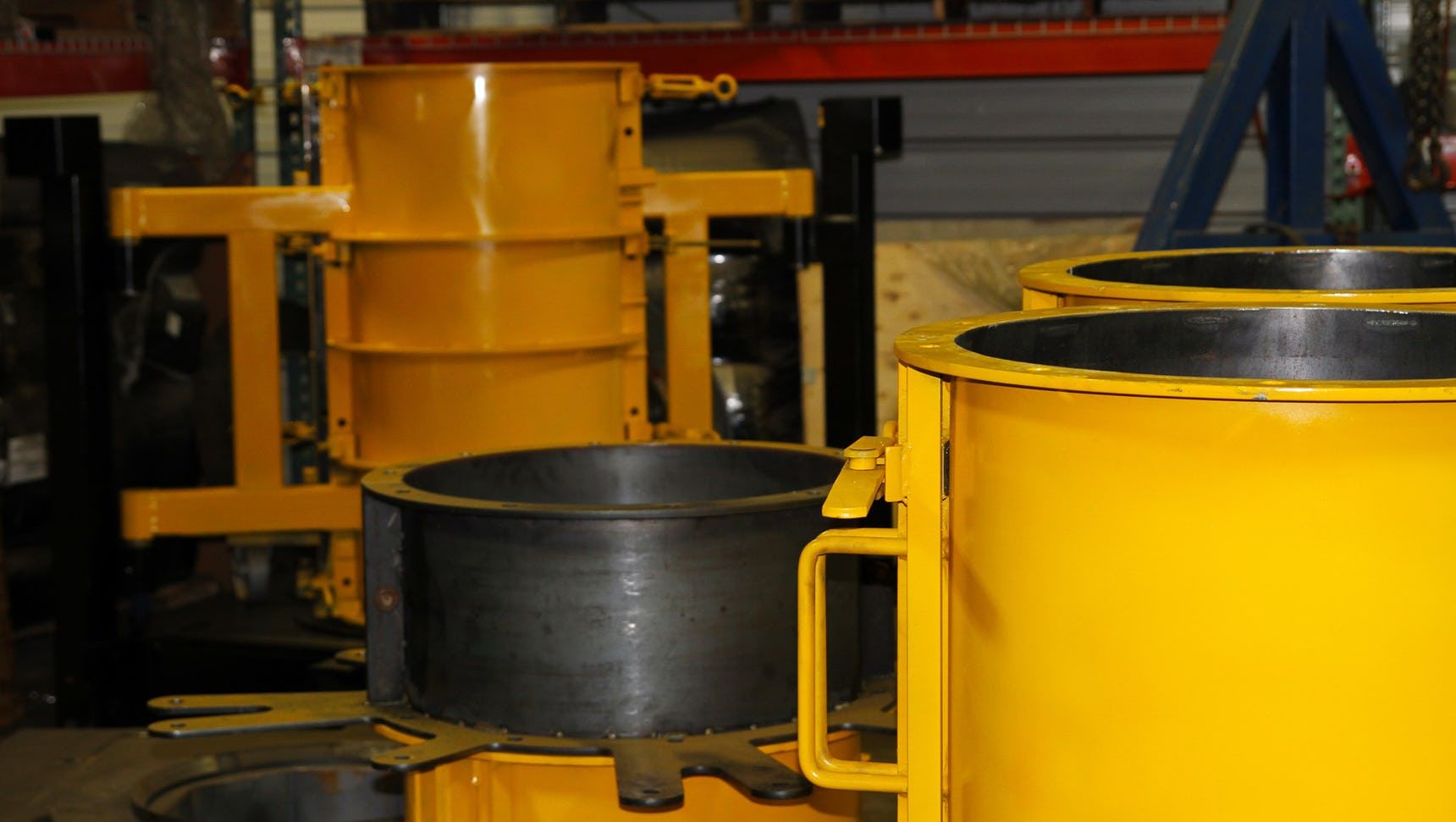 Minnick has found it incredibly valuable to show the precast production process to electrical and civil engineers -- in person. On tours of the plant, Minnick explains the simple means of making a precast Pole Base, highlighting the benefits of precast and the work that precast is saving contractors in the field. While cast-in-place options take up multiple days, multiple trips to the jobs site, and are weather dependent, Pole Base can be manufactured indoors, and then brought to the job site. When engineers and contractors see how reliable and versatile the precast manufacturing process is, the benefits of precast "clicks" with them and they are sold. Through controlled production practices they produce a consistently high quality product backed by customer service. Minnick continues to increase his brand awareness against his competitors by shedding light on the precast process.
Retaining Repeat Business
Minnick also prides himself on his utilization of his pre-existing contacts. Not all engineers or contractors will switch to Pole Base right away. He takes the approach of visiting a job site and talking to the supervisors in the field, hearing their challenges and pain points. Most of them fear that they will lose workers if there is no concrete work to be done on site. To overcome this objection, Minnick explains that, "then you can take that labor and redirect it to something that will make you more money - like the actual electrical work." Once a contractor has tried precast, they like it. This strategy of growing a relationship with existing contacts and turning them into repeat customers has helped Minnick grow his customer base and build a steady stream of repeat business.
Growing Into the Future
At the end of the day, the bottom line is higher profit. Minnick understands that his success would not be as great if it weren't for the team at Aster Brands backing him. Since 2000, Aster Brands has helped over 150 manufacturers around the world build their concrete businesses with proven, licensable brands including Redi-Rock, Pole Base, and Rosetta Hardscapes. When concrete manufacturers license a product from Aster Brands, they have access to design and engineering resources, marketing tools and assets, ongoing brand development, and the support of dedicated business consultants to help them grow their businesses. "I think it's good to have a team like Aster Brands behind the product, so I don't have to worry about some of the developmental things...and it's kind of nice to have some(one) with the broad base of contacts of people around the country and world," Minnick said.
Take your business to the next level with these helpful tips from Mark Minnick, an industry specialist and precast expert.